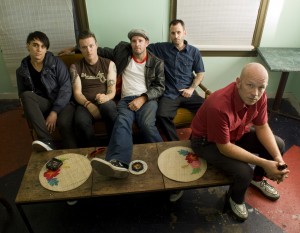 Swingin' Utters are playing a FREE show at the Slidebar in Fullerton this Saturday, March 19th. The Utters are sure to rip the bar a new one. Check out the interview below with guitar/vocal/accordion master, Darius Koski.
1. Dead Flowers, Bottles, Bluegrass, and Bones was a masterpiece. What can we expect from the new album?
Another masterpiece I hope. 14 songs, no filler!
2. What influences you as a band?
Everything.
3. When you're in Southern California what are some of your favorite bars to visit?
Wherever my friends are going… I go to Alex's in Long Beach more than anywhere else I guess, because all our bands play there so much.
4. You guys are in more than a few side projects, can you tell us about those?
I'm in Filthy Thieving Bastards, Spike's in the Gimmie Gimmies and the Re-Volts and Filthy Thieving Bastards, Johnny's in Filthy Thieving Bastards and Druglords of the Avenues, Greg fills in for a bunch of bands all the time (he does Dirty Filthy Mugs now, at least I think he still does that…), Jack's occasionally in the Re-Volts and was in Dead To Me til he quit…
5. Favorite songs to play live? Why?
Five Lessons Learned (because people like it), As You Start Leaving (cuz I like it), any new song is always more exciting than an old one. My new favorites are Time On My Own and Brand New Lungs.
6. What bands do we need to listen to?
Swingin' Utters. That'd be cool. I like Modern Action, American Death Ray, Dirtbombs. The Spits! I really mostly listen to shit like Radiohead, Elliott Smith and Arcade Fire.
7. Five all time favorite albums?
right this second off the top of my head:
1. Kinks: Village Green…
2. Beatles: Rubber Soul
3. X: Under the Big Black Sun
4. Townes Van Zandt: Our Mother the Mountain
5. Elvis Costello: Get Happy
8. What can we expect in 2011 from the Swingin' Utters?
a new album and more touring. a second wind!
9. Last words? Shout-outs?
see you somewhere out there…
Comments