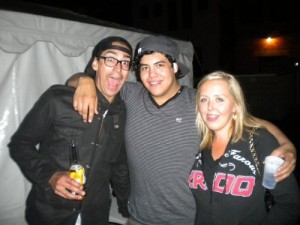 Stacy Lee is a promotions assistant at KROQ. She let me pick her brain about what she does for the station. Please enjoy the short but sweet interview.
1. Tell us about life as a promotions assistant at KROQ?
It's unique! It's an awesome job.
2. What exactly do you do?
We are essentially the street team. When we are out driving in the KROQ rigs, we are moving billboards. Our crew of about 35-40 works all the events. We typically set up a tent on-site, play music and give away free stuff like stickers, tshirts and often tickets as well.
3. What's the best part of your job?
The best part of my job is meeting the fans. At all the gigs we get to meet and talk to fans. Sometimes we run into the same people over and over again, which is really cool. I love seeing the reaction of the people who win big prizes. Last year we did a lot of Del Taco gigs where we had some great giveaways — one girl CRIED when her mom gave her the Paramore tickets she won. It was awesome to see.
4. Who are you listening to lately?
Mumford and Sons is my number 1. Their album is great.
5. If someone wants to do what you do….What do they need to do?
Go to cbsradio.com and apply! Be knowledgable about the station and music.
6. Shout-outs?
To all my coworkers and bosses…you rock. It's been a pleasure working with all of you

Comments