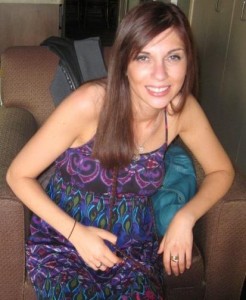 Johanna Melamed is a young entrepreneur who at the age of nineteen already owned her own high-end resale-clothing boutique, The Closet. After being in the fashion industry for seven years, Johanna is now the proud owner of two thriving boutiques in Santa Barbara and Westlake Village with another store soon to open in Santa Monica. Check out our chat below.
1. How did a 19-year-old college student come to open her own store?
I came to Santa Barbara for college in 2003 and in my first week there I went downtown looking for a part-time job. I parked my car in a city lot and happened to walk through an alley on my way to an interview at a nearby café. In the alley I noticed a boarded up office with a "Now Hiring" sign and I called the number on the sign. A woman named Jeri picked up and told me she was opening a vintage boutique called The Closet in this converted office space. A few days later she hired me. As the only employee, I helped her paint the space, build the fixtures, and gather the inventory. A few months later The Closet opened its doors as a vintage and consignment shop. I continued on as a part-time sales associate for several months, until circumstances in Jeri's personal life changed and she told me she was moving out of state. I was devastated to think that the shop would be closing after all the hard work that went into getting it started, and I felt that somehow I had to try running it myself. I purchased The Closet in its first year of business for practically nothing, since we were not yet turning a profit. I don't know what I was thinking considering I was a college freshman who knew nothing about business, but after much trial and error, help from friends, and many "how-to" books, we made it through our first couple years and eventually became profitable. Balancing school and the store was very challenging at times, but much to my own surprise I ended up graduating from UCSB in four years as planned. Over the years, the shop has evolved from a vintage boutique to contemporary resale and consignment, specializing in current, high-end labels, and we are now called "The Closet Trading Company". In 2008 we opened our second store in Westlake Village, and in 2010 we moved the Santa Barbara store from the tiny little nook in which we started to our beautiful new State Street space. This summer we are thrilled to open our new Santa Monica location.
2. It's impressive that you are able to compete with corporate giants, such as: Buffalo Exchange, and Crossroads Trading Co. How are you able to refrain from being bullied around by these big businesses?

I read something once from the guy who started godaddy.com, Bob Parsons, "Pay attention to what your competitors are doing, but pay more attention to what you are doing." I love that thought, and every time I feel anxious about keeping up with our much larger competitors I try to come back to this quote and re-focus. It is valuable to be aware of what your competitors are doing and how they are progressing, but we try to always be more concerned about working within our own company to continually develop ourselves. We like to say, there is no such thing as "better enough." To differentiate ourselves from the retail marketplace as a whole, we place a heavy emphasis on the core of our business, customer service. We buy and sell clothes, but the commodity that truly makes us special is the level of service we provide and the uniquely enjoyable experience we create for our customers.
3. Can you tell us a bit how you market your brand?
We market our brand using a number of different avenues, including TV commercials, print advertising, radio spots, social media, and of course guerrilla marketing with Cat 'n Mouse.
4. What's hot right now at the Closet?
JEANS! It's all about Hudson, True Religion, and J Brand right now. We also love all the effortlessly fabulous summer styles from brands like Free People, Marc Jacobs and Vince.
5. What fashion trends do you wish would disappear forever?
I definitely look back at some old pictures and wonder what in the world I was thinking! But I am really excited about some trends that are coming back in, like the super long maxi dresses and skirts – you never know what trend from the past might just come back around again!
6. Fashion tips?
One of the easiest tips I suggest to customers who want to take their look up a notch is to switch out the belt that come attached with a piece of clothing. For example, if you get a dress that comes with a tie belt, just switch it out for a leather belt and I promise, you will look so much more put-together! Also, when layering pieces, keep proportion in mind by remembering the phrase "little over big over little". For example, you layer a fitted (little) jean jacket, over a flowy (big) tunic, over skinny (little) jeans and voila! Your look will be perfectly balanced and chic!
7. Any advise for aspiring business owners?
Another nugget of wisdom from the GoDaddy guy (paraphrased): "Focus on what you want to have happen, but accept the worst possible outcome." It reminds me to stay positive when things aren't going my way, but also that you have to qualify what exactly is the worst that could happen, because the known consequence is easier to grapple with than the unknown.
8. Where can we go to find out more about The Closet?
Visit one of our stores if you live in SoCal, or check us out online at:
facebook.com/theclosettradingco
Comments