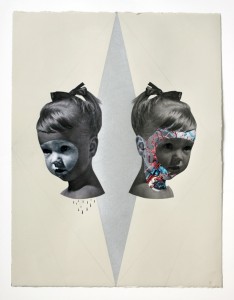 Heather Gabel is a kick-ass artist who has an obsession with all things dark, goth and blood covered. Make sure to check out her show, at the POVevolving gallery, which opens this Saturday July 9th . Heather was cool enough to do an interview which you can find below…
1. How did you get started with art?
Art was the thing I was always best in in school growing up. I went to college on a photography scholarship but ended up graduating with a Bachelor of Fine Arts since I hated proper photography. In an advanced lighting class I decided that I'd rather not even learn how to professionally light a tube of toothpaste for a print ad because if I did I might end up doing that as a career. So, I switched majors to something much less useful professionally but much more fulfilling personally. I was always doing lowbrow stuff, flyers for shows stuff like that, but it was years before it became a paying gig.

2. You've designed tons of album covers and shirts for so many kick-ass bands(Green Day, Alkaline Trio, Rancid, Against Me!, AFI, The Falcon, etc)…What's that whole experience like?
It's awesome. If someone would have told me I would do t shirts for Green Day or Rancid when I was 15 I'd have flipped. I was into those bands as a kid, the first time I saw Green Day was in my friend's backyard and they were wearing dresses. The first time I saw Rancid was in a tiny coffee shop and they were just a 3 piece. It's weird how things turn out, the business relationships I ended up having with them grew out of friendships, they personally asked me to do some stuff for them after learning I had done so much of the merch design for Alkaline Trio.
3. What inspires you?
In my design work I try to capture the spirit of the music and let that be the inspiration. In my personal work it's an outlet for whatevers going on inside for me at the time, so my life is basically what inspires that.

4. Can you tell us about your upcoming show?
The show "Supernatural? Perhaps." Is a show with my pal Steak Mtn (aka Chris Norris) who also comes from a design heavy background. He's done work for some of the same bands as I have (Against Me!, Fake Problems, Green Day) and we also share an obsession for all things dark, goth and blood covered. This is third show we've collaborated on but the first time it's just he and I so we've both been crazy busy working on a lot of new pieces specifically for this show. The show is 2 parts, the big gallery room will have our fine art, I did collages w/some painting/drawing and he did some drawings and big hand drawn/digitally structured drawings for prints. The back room will house a collection of all the design work we've both been doing over the past 14ish years, including originals, sketches etc. The show opens this Saturday the 9th at POVevolving Gallery in Chinatown, LA and will be up a month.

5. What bands should we listen to?
I've just been listening to this on repeat for the past month or so…
6. Favorite places to eat in LA?
Flore, M, Real Food Daily, Mexico City, Local, Trees Cafe in Griffith Park, Elf.

7. What's next on the agenda for you?
I'm putting out a book with all of the designs I've done for Alkaline Trio over the past 15 years. The book release will be in Chicago this fall in an exhibit of a series of prints of my most beloved designs.
8. Where can we find more info on what you're up to?
My website! www.heathergabel.com

9. Any advice for aspiring artists?
Hmmm. I think anyone who really wants to make art, music, etc is going to do it regardless of what anyone tells them so, no, I've got very little insight on that topic. Or maybe that's the advice, just to do what you want because you want to.

10. Shout-out's? Words of wisdom?
Ha! Nope.
Comments