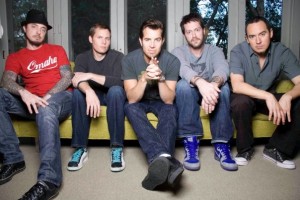 Rock Reggae Funksters 311 will be coming back to SoCal for their annual Unity Tour. They'll be bringing along Slightly Stoopid and Soja, so this is sure to be one big summer party. You can catch them August 24th at the Verizon Wireless Amphitheater in Irvine, August 25th at the Cricket Wireless Amphitheater in Chula Vista, and on August 29th at the Santa Barbara Bowl. Nick Hexum, vocalist and guitar player for the band, was cool enough to do a quick interview with us which you can find after the jump.
1. One of my favorite parts of summer is when the Unity Tour rolls through Southern California. There's nothing better than watching the sun go down with, "Beyond the Gray Sky", "Prisoner", "Purpose", "Rub A Dub", etc, as the soundtrack. What does playing in SoCal mean for all of you?
Growing up in Omaha, Nebraska we always dreamed of living and making music in SoCal. We were influenced by the vibe and music that was made there. Now we've been based in SoCal for over twenty years, so more than half our lives. Playing our hometown shows are always a highlight. Having our friends and family there makes it extra special.
2. You guys have been doing this for quite some time. What motivates/inspires you to keep going?
I still find myself getting obsessed with music I'm discovering. Lately, it's been all about 70's funk around here. As long as you keep stoking that youthful sense of wonder and exploration, one can find inspiration to stay creative indefinitely.
3. Your last album, "Universal Pulse" was short but very sweet. "Trouble" and "Count Me In" are my two personal favorites from that record. Can we expect more frequent, shorter releases in the future? Any new material in the works?
Yes, we have some exciting new demos for the next batch started. After some time off following summer tour, we're going to get back into pre-production mode. First, a couple of us are going to do some side-projects and then 311 will reconvene. I'm excited to see where we go next time around.
4. 311 always brings the coolest bands out on the road… everyone from The Roots, Fishbone, Snoop Dogg, The Wailers, and this year you have Los Angeles favorites, The Aggrolites, along with Soja and Slightly Stoopid. Can you tell us about the process of selecting bands to take out on tour?
This summer's bill is amazing. I'm a huge Aggrolites fan and combining that with Slightly Stoopid's awesome reggae has turned this summer into a big backyard bbq!
5. Reggae is a huge part of the 311 sound. Who are some of your favorite Reggae artists?
Of course Bob Marley is the greatest to ever live but there is so much Jamaican music to explore. There was so much great dancehall in the early 90's. Super Cat, Shabba Ranks, Daddy Freddy… that stuff was a big influence on us.
6. Can you tell us about a day in the life on the Unity Tour?
Occasionally I have a twitter barrage and give the play-by-play of my day. I'll do one again soon. Follow me @nickhexum
7. Shout-outs? Words of wisdom?
Stay positive and love your life!
Comments