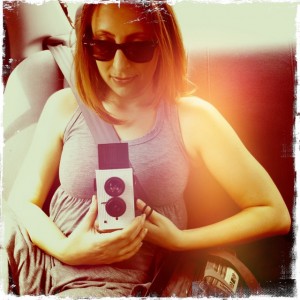 The Roxy is my favorite venue to see live music in Los Angeles. I've seen a countless number of kicks-ass shows there, and will continue to do so. Heather Kohos, Chief Brand Officer for The Roxy was cool enough to answer some question about life at the club. Please check out the interview below.
1. What has been your favorite Roxy memory so far?
I've worked at The Roxy for seven years… so choosing one memory is really difficult. My personal favorites are behind the scenes memories that stay behind the scenes so I can't share those. Here is what I can share: The people that work here are among the most amazing and fun people out there. When we do off-site events it's incredible to see the events come to fruition. This year was our fourth annual AUSTINROX (Roxy showcase in Austin during SXSW) and when Saint Motel performed the whole Roxy crew jumped on the dance floor to groove. It was a perfect release after a crazy week of work. The Roxy's dance circles are infamous. Top ten memories for sure.
2. How did you get started working for the club?
I could make it a long story but I'll skim the surface for you. I started working here in the box office in November of 2003. It was supposed to be a part time thing so I could focus on making artwork the other days but after one week I went full time. And after 6 months in the box office I was brought into the office as the Talent Buyers assistant. Every few years my role would shift to my strengths keeping things fresh and interesting. And about a year ago I took on the title CBO (Chief Brand Officer) which basically means I help run this place.
3. Can you tell us about a day in the life at the Roxy offices?
I could but then I would have to kill you… Kidding. We work hard. We want to be the first to know things, the first to do things, the best at the things we do, and we also like to laugh as much as possible. Any chance to celebrate is welcomed because at the end of the day these people are the shit… but we keep those non-curricular activities (for the most part) out of office hours.
4. Who hasn't played at the Roxy that you would love to see there?
The Black Keys. I could be wrong but I don't believe that they have played here before and I definitely would like them to.
5. Top three Roxy shows you've seen?
Dolly Parton, My Chemical Romance, Foo Fighters. Ask me the bands and comedians I wish I had seen… That list is crazy bananas.
6. When you aren't spreading the word about the Roxy…What are you doing?
My life is about friends & family, fun, fashion, art and food. I get into all sorts of crazy adventures but I'm saving them for my book… hahaha.
7. How do you market the club? What works? What doesn't?
The Roxy has gotten very strategic in our marketing. We know what genres work with a street strategy and which would work better online, etc. And sometimes there is a show that thwarts all of our best efforts. Some shows are easy and some take a lot of work. That's just the nature of the industry.
8. What are some of your favorite restaurants in Los Angeles?
I love to eat, go on food adventures and I have a few restaurants that I couldn't live without but I would have to say Tito's Tacos is by far my favorite. It must be the witty theme song. http://titostacos.com/
9. What bands do we need to listen to?
Saint Motel, Nico Vega, A Fine Frenzy *they shouted out to me on Twitter awhile back and it made my day.
10. Shout-outs? Words of wisdom?
Find a place you love to be, and be there…and sometimes, put down your smart phone to enjoy rather than document.
Comments