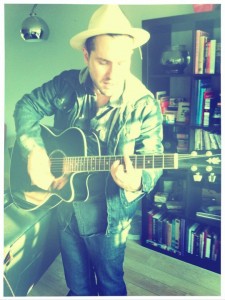 Today on Facebook Fan Friday, we bring you Michael Anthony, who loves the guitar and is going to see Prince tonight (lucky him)…read more below.
If you want to be featured on "Facebook Fan Friday" and share some things about yourself:
1. Like Cat 'n Mouse Promotions on Facebook.
2. We'll select a new fan each week to feature!
1. What's your name?
My name is Michael Anthony, ( aka: guitar mike) but you can call me Michael.
2. What do you do?
I'm a guitarist, I'm a hustler, I'm a jack of all trades and a king of nothing (except for playing guitar.)
3. Favorite places to eat in Los Angeles
Whole Foods, Swingers, Katsuya, Niko sushi, Traktir, Clay Oven, Pita Kitchen, The griddle… to name a few.
4. All time favorite album?
Zeppelin 3 or The Chili Peppers, Blood Sugar Sex Magic… Im thinking RHCP kinda takes the cake. Everything about that album is magical.
5. Describe a perfect weekend for you?
Sleeping in everyday, hitting up Runyon Canyon or the beach early afternoons, then coming back home for a nap and after that get ready for the night. At night Id hit up a cool dive bar anywhere in L.A.. So if none of that went down, you'd probably find me stoned in my room playing guitar.
6. What was the last concert you went to? How was it?
The last concert i technically saw was Kanye West at Coachella. I wanted to hate it… like I really really didn't want to like his show, but let me tell you… Kanye fucking killed it. He may be a lil prick, but he sure as hell put on a good show. I'm actually seeing Prince tomorrow and would've preffered the question after tomorrow.
7. Shout-outs? Words of wisdom?
I'll give a shout out to you and Brandon, and to all the kids that dream to one day explore space in all of its infinite glory.
Also… I live by this… Dont shit where you eat.
Thanks
Comments