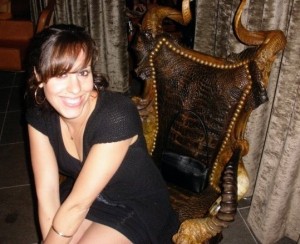 Today on Facebook Fan Friday, we bring you Jacqueline from Melbourne, Australia. She loves a good book and is always up for a juicy Italian deli sandwich…read more below.
If you want to be featured on "Facebook Fan Friday" and share some things about yourself:
1. Like Cat 'n Mouse Promotions on Facebook.
2. We'll select a new fan each week to feature!
1. What's your name?
My name is Jacqueline, but my buddies like to call me Jack, for short.
2. What do you do?
I am a Library Officer (the cool variety)! What that very "official" title means, is that I help out book-seekers with everything library related; I am there to assist anyone that needs assisting!
3. Favorite places to eat in Los Angeles?
Well, I'd have to say my own kitchen (*grin*) – BUT if I am out and about, I LOVE Bay Cities Italian Deli and Portos! In my opinion, these are the best places in L.A to get awesome bread and delicious sandwiches. YUM!
4. Fun day time Los Angeles activity you can recommend?
The Hollywood sign hike! You get an amazing view of the city, the valley, AND get up close and personal with the famous Hollywood sign. It's a great day time activity for both tourists and locals alike.
5. Describe a perfect weekend for you?
A weekend camping, hiking, and horseback riding. Or, alternatively, a successful weekend of shopping.
6. What was the last concert you went to? How was it?
"Australia Rocks the Pier" in Santa Monica. I even got to meet Ben Lee – the headlining act and my favourite Aussie singer!! Brother was also rockin' the stage with their bagpipes and didgeredoo!
7. Shout-outs? Words of wisdom?
A big shout-out to all my fellow Aussies Down Under! As far as words of wisdom go, take one day at a time, savour simple pleasures, and don't sweat the small things. Enjoy life.
By the way…If you're in the market for a pet, SAVE A LIFE…shelter dogs make great, loving, loyal pets!
Comments