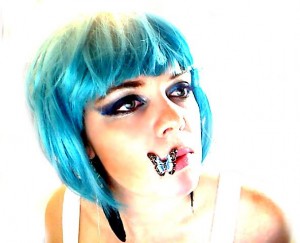 Today on Facebook Fan Friday, we bring you Colette von, who loves getting massaged and eating peppers (of the grilled variety)…read more below.
If you want to be featured on "Facebook Fan Friday" and share some things about yourself:
1. Like Cat 'n Mouse Promotions on Facebook.
2. We'll select a new fan each week to feature!
1. What's your name?
Colette von
2. What do you do?
-I am an Entrepreneur (Own Private Music School, Flower Company, Artist Management Company, Massage Company, Flier Design/Printing Company) -I am a Musician- Vocals in Hard rock band named Capricious. I also play guitar, piano, bass, and hand percussion outside of the band. -I looooove painting!
-and I Break Hearts lol.
3. Favorite places to eat in Los Angeles?
MY KITCHEN! I love cooking. If I'm going out, I have a few places that I LOVE- Pho 2000, Tahoe Galbi, The Grill
4. Favorite bars in Los Angeles?
BAR SINISTER/Boardners, Big Foot
5. Describe a perfect day for you?
Wake up after camping on the beach, eat some cereal- lucky charms =), get a massage, cook some lunch- maybe grilled peppers and chicken a la wrap, then look for sea shells and play guitar…on the beach. THEN drive the PCH. THEN go to a rock show! THEN go back to the beach and run around in the dark hahaha- bon fire!!!!!
6. What bands are you really into now?
This is a terrible question hahaha…too many…
Neil Zaza, Scale the Summit, Collective Soul, Tool, Alice in Chains, NIN, STP, QOTS
7. Shout-outs? Words of wisdom?
Shout outs- Love my boys!
Cameron- Karaoke buddy, so much fun!
David- Maybe one of the best guitar players I know! ♥ you!
My sister Natalin- Bech Bech, I love you!
BFF- Jamiekins, best knockers in town! Hahaha ♥
Words of wisdom-
-If you're hungry, eat something.
-Live for the now, we don't know when life will be taken.
-Stop judging others, and get over it! Why do we keep this spiral of insecurity, especially in Los Angeles? WTF People?
Comments