Today on Facebook Fan Friday, we bring you Heather Eastwood, who's a scientist by day and party animal at night…read more below.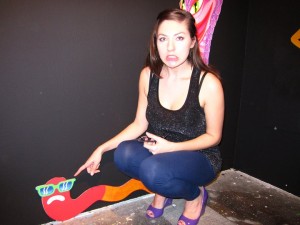 If you want to be featured on "Facebook Fan Friday" and share some things about yourself:
1. Like Cat 'n Mouse Promotions on Facebook.
2. We'll select a new fan each week to feature!
1. What's your name?
Heather Ann Eastwood (aka: Boo, H, Trim)
2. What do you do?
Senior Research Associate (science during the day … party at night)
3. Favorite places to eat in Los Angeles?
Hide Sushi in Japanese Village/Sawtelle. I love me some raw fish.
4. Favorite bars in Los Angeles?
Standard Downtown rooftop bar, especially for summer time parties.
5. Any fun plans for the weekend?
Checking out the Scion Art show in Culver City and then head over to A Club Called Rhonda at El Cid in Silverlake. Oh, and getting a facial on Saturday morning.
6. What bands have you been rocking out to lately?
Friendly Fires and Two Door Cinema Club.
7. Shout-outs? Words of wisdom?
I would like to make a shout out to my two pet frogs. And words of wisdom – less is more …don't be a slave to your spending … don't be a slave to your job. And be happy with what you have. xxxo
Comments