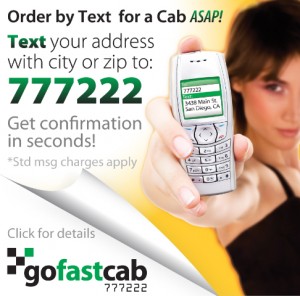 GoFastCab is a kick-ass company that let's you send a text message to order your cab. Who wants to wait on hold while you're puking your guts out? Co-Founder, Josh Komenda, talks to me about the company in the interview below.
What is GoFastCab?
GoFastCab is a service that lets users order a cab anytime, without calling a cab company. Right now, you can text your address to 777222, and your order is confirmed instantly. Look for our iPhone and Android apps to be launched this spring!
How did you come up with the concept?
We came up with the concept a few years ago in San Diego while trying to order a cab on a busy Friday night. The hold time on the phone was like 10 minutes. We thought there had to be a better way.
Where is the service available?
Throughout Southern California, Arizona, San Jose, Chicago, Cleveland, Columbus, Nashville, and Charlotte.
How has the response been so far?
Great! GoFastCab hopes to process about half a million orders in 2011!
What's coming up for GoFastCab in the future?
Look for our Smart Phone Applications with GPS assisted ordering, web ordering, and many new cities coming soon!
When you're not texting for cabs, what are you doing?
Love working out, hanging with friends, eating out, hiking, and travelling.
Favorite place to eat in San Diego?
Patio at George's at The Cove in La Jolla
Where can we find out more info on GoFastCab?
Check out our website: www.gofastcab.com, or become a fan on Facebook: www.facebook.com/gofastcab
Shout Out's?
Thanks to Cat 'n Mouse!!!
Comments